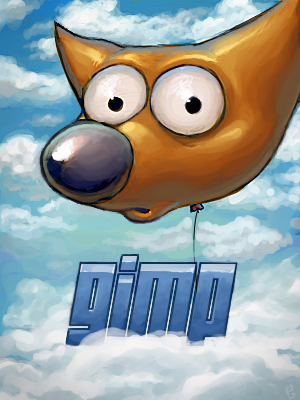 Online Graphic Design Degree Guide: GIMP Resources
One of the many successful open-source software programs, GIMP has risen to be the premier open-source graphic editor. GIMP is a raster-based program that can be used to digitally manipulate or create images. GIMP stands for GNU Image Manipulation Program, and like all GNU software it is free to use. Originally developed in 1996, GIMP has seen numerous updates and versions, with the most recent being 2.6.11. Current versions of GIMP are compatible for use with all major operating systems, and some minor ones, including the GNU based Linux OS. Like many other open-source software programs, GIMP is able to utilize user-created content and plug-ins. These can include such add-ons as brush sets, fonts and palettes. Additionally, GIMP has been modified to allow for the usage of Adobe Photoshop brush sets and other content, enhancing its ability to compete with its main competitor. While GIMP was not designed to compete with Adobe Photoshop, it fills that role in the current marketplace. The flexibility, creativity, support and lack of cost inherent in open-source software, as well as its fluid design has allowed for the GIMP to become a popular graphics editor.
As part of an ongoing effort to provide the best resources on graphic design, compiled below are resources for greater understanding of the GIMP and its usage in image editing and creation. The following resources include overviews and explanations of the elements and roles of GIMP, along with related tutorials and databases. Also included are associated forums and community sites for connecting with other GIMP users. Selected links have been chosen to help inform students of graphic design, as well as anyone else interested in graphic design or simply wanting to edit and enhance their photos.
GIMP Information and Guides
Using GIMP is relatively simple to learn, but there are numerous features and techniques to learn before mastering the software. While GIMP is similar to other photo and image editing software, it has some unique aspects associated with it. To learn these unique features as well as beginning to advanced methods and processes within GIMP, it is often useful to follow a tutorial or guide. The following resources cover the majority of lessons and advice associated with GIMP.
GIMP Community
As an open-source software program, GIMP accordingly has a strong community of followers including developers, programmers, graphic designers and everyday users. This community helps create new plugins and add-ons for GIMP while maintaining its viability and usefulness. Perhaps the most important aspect of the GIMP community is communication between users, sharing tips and shortcuts to help each other become better users of the software.
GimpTalk – An online forum for discussing GIMP software and projects. Users can upload their GIMP created images as well as offer tips and guidance and discuss GIMP-related news.
GIMP Activity – The GIMP page at ostatic.com is a community driven resource featuring user created images, discussions on news and topics relating to GIMP, Q&A and uploaded GIMP articles.
GimpUsers – An online community for professional and amateur GIMP users. Features downloads, news, tutorials and regular contests.
GIMP Accessories
There are a ton of available plugins, add-ons and content available online for use with the GIMP software. These accessories provides users with a wide variety of design possibilities, much more than the standard 'out-of-the-box' program. The ability to add a large amount of free, customized design content is one the strengths of the GIMP program. The following resources cover the various user-created add-ons and plugins available for GIMP.